By Katie Azevedo, M.Ed.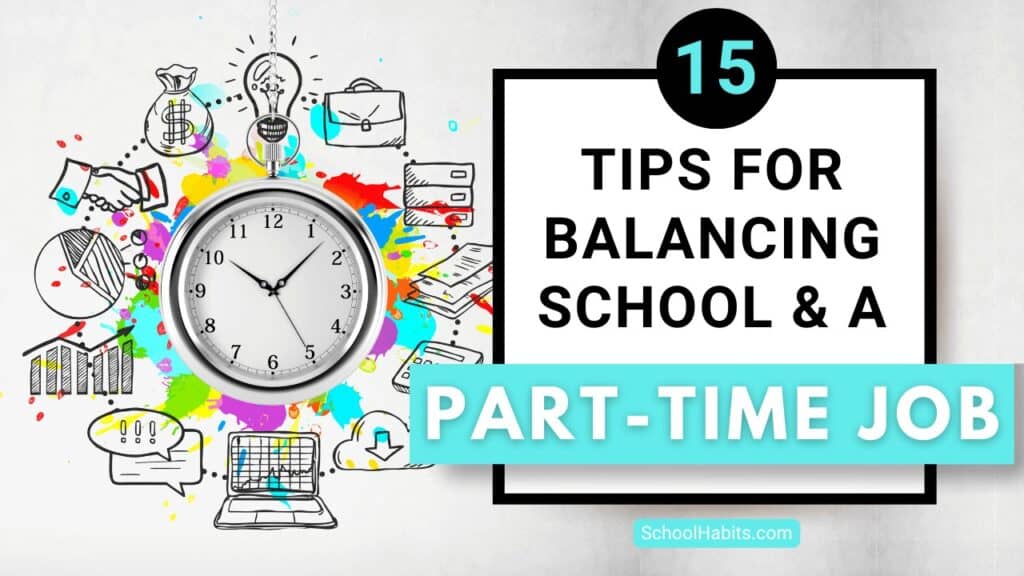 There are many reasons for working part-time as a student, which I explore below. But balancing studies and a part-time job as a student isn't easy, and all the pros and cons should be considered before choosing to add a job to your plate. This blog post offers 15 tips for balancing school and a part-time job in a way that's not overwhelming, and actually…dare I say…enjoyable?
Reasons for having a part-time job as a student
You may choose to get a part-time job while studying for a number of reasons. The following list contains some reasons why you might consider working while studying:
You need money to support yourself or others
You want money for non-essential personal expenses
You are working under a tuition reduction program
You want to develop your skills to improve your university applications
You want to develop your skills for a job after university
You want to experiment in various fields before embarking on an academic or professional career
Looking to establish network connections
Tips for balancing studies and part-time work
The following 15 tips can help you balance the demands of school while working 25 hours or less per week in a manageable, non-overwhelming way.
1. Have clear limits on the hours you can manage
Before committing to a part-time job, know how many hours you can handle, what days you can work, and any recurring weekly or monthly conflicts. When contacting a potential employer, be clear from the start about your ability to work.
2. Communicate clearly with your boss
Maintaining clear and open communication with your boss is key to balancing work and school. Speak up when something isn't working, ask questions when you're not sure what's expected of you, and be honest at all times.
3. Commit to weekly planning
I suggest you balance your school and work schedule from week to week, ideally on Sundays. Although you should know your work schedule a month in advance (see tip 4), your school schedule will fluctuate depending on your extracurricular activities, what tests you have that week (and therefore how much you need to study ) and your homework load.
Once a week on Sunday, sit down and plan on paper what your week ahead will look like. Consider your school hours, work hours, extracurricular activities, appointments, and homework. here is my tutorial that shows you exactly how to do this.
4. Get your work schedule a month in advance
Ask your boss if you can get your working hours a month in advance. Bosses who hire students are used to doing it, so asking isn't a big deal. Getting your work schedule a month in advance can help you plan your weeks, which is key to staying balanced.
5. Plan work around school, not the other way around
Before agreeing to your work hours each month, or before agreeing to cover someone's shift as a favor, make sure you're not cutting back on the time you need for school. You should know exactly what time you plan to go to school if you follow my advice on weekly planning (tip 4). Taking overtime may seem like a good idea in the moment, but it's not worth it if you're going to be stressed out later.
6. Work less during exam periods
Balancing school and a part-time job is not a one-time job; you need to make adjustments to your work schedule when your school life enters busy seasons (see tip above). To avoid feeling overwhelmed, reduce work hours during intermediate and final exams. Just be sure to let your boss know ahead of time.
7. Reduce your other activities (you can't do everything)
If you plan to engage in a part-time job while studying, you may not be able to participate in other extracurricular activities like sports and student groups. This isn't necessarily a bad thing, but it's something to consider when considering your college application or professional resume. There isn't a lot of time in the day, and you have to remember that you can't do everything. Here are 4 signs that you are doing too much.
8. Avoid procrastination and start right away
Working students have less free time than non-working students. This means that if you have a part-time job, you can't mess around and postpone assignments. Procrastination will only lead to stress, which can impact your grades And your job. The solution is to start homework much earlier than you want – and that includes preparing for exams. Here are some of my anti-procrastination tips.
9. Find a study space near your work
Find an offsite study space close to where you work. It could be a library, cafe, bookstore, or something similar. The reason I'm including this as advice for balancing school and a part-time job is that there might be days when it makes sense – time-wise – to do your homework before or after work. , close work. Whether it's due to traffic, your driving situation, or any other factor, it's good to have an alternative study spot in your back pocket.
10. Work ahead whenever you can
Tip 9 is to avoid procrastination, but the real balancing magic happens when you can work ahead. Of course, there will be days when you can hardly manage the bare minimum, but there will also be days when you are not scheduled to work and your homework load is light: these are the days when you should be working. in advance.
For example, if your teacher only assigned chapter 5 in the novel you're reading, go ahead and read the next chapter as well (because you know you're going to have to eventually). Or maybe your teacher hasn't told you when your vocabulary quiz is yet, but you can start studying anyway because you know it's coming at some point.
11. Start small – assess – then add more hours if you can manage it
If you're excited about making money with a part-time job, especially if this is your first job, I understand the temptation to "go all out" and take on so much hours as possible. More money, yes. But also more stress and more juggling with your time.
I suggest you start with a minimum of work hours – probably less than you think is reasonable – and then assess how well (or not) you are able to balance school and work for about a year. month. After a month, ask yourself if it makes sense to increase your working hours.
12. Save your money wisely
If you spend every penny you earn, you will have to keep working harder to replenish your bank account. But if you watch your spending and save wisely (many financial experts like this argue that students should save at least 20% of their salary), you can keep your working hours reasonable.
13. Study Efficiently Using Active Reminder (It Saves Time!)
When you balance studies and part-time work, you have to be extremely efficient in the way you study. With so little free time, you won't be able to study longerbut you can study better. How? Use active recall techniques instead of passive study techniques. Active recall is definitely more uncomfortable, but that's because it works. And because it works, you can study for less. On the other hand, passive study methods (like proofreading grades) could feel more comfortable in the moment, but they don't work and waste valuable time.
14. Choose a job that is easily accessible and unaffected by traffic
It may seem like a no-brainer, but the easier your work is to reach, the easier it will be to balance. Also consider rush hour traffic. A job may pay well, but if it's a 45 minute commute each way, you could be spending 90 minutes doing something more valuable.
15. Choose a job with flexibility
This may be another obvious tip, but you'll be able to balance school and work more easily if you have a flexible job (and boss). A slightly better paying job at the same place your friend works might sound cool, but if the manager doesn't fit your school schedule or take your hockey season into account, you might be better off. take the lowest paid job. ice.
A final note to working students
As I wrote above, getting a part-time job while you study has many benefits beyond salary, including skills development, relationship building, and writing your CV and applications. .
However, sometimes even all the time management strategies in the world — including the 15 tips for balancing school and a part-time job in this post — may not be enough to help you balance a job that's too no matter how you turn it. If you're chronically stressed, missing homework, and arriving late for school or work, you may need to consider taking a break from work until things calm down a bit. It's not a failure: it's an awareness.