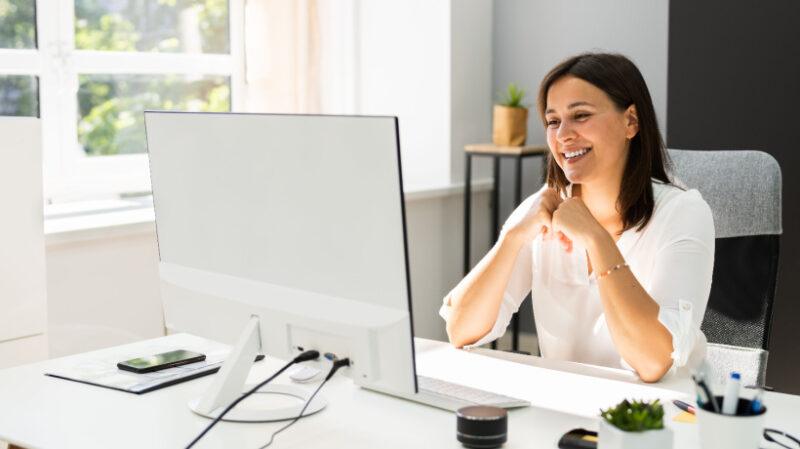 What activities should you include in your on-demand training plan?
A well-trained workforce is an asset in today's market. Today's staff need to be well-equipped to deliver industry-specific information instantly and manage ever-increasing workloads while supporting their colleagues and maintaining diverse skills. On-demand training activities are ideal for carrying that weight in any high-demand industry and producing cross-functional teams. By delivering training in an on-demand format, companies can ensure their team stays up-to-date with the latest industry trends and day-to-day processes while ensuring Just-In-Time support guarantees are in place when they need it. If you are interested in implementing training on demand but if you're not sure which activities to include in your program, take a look at our suggestions.
Just-in-time support with six on-demand training activities
On-demand training allows for flexible delivery as it is accessible anytime and from anywhere. A well-rounded training program formatted for on-demand delivery should accommodate a variety of activities capable of addressing questions or issues in the field at any time. Of course, structuring a training initiative requires careful planning and execution; below, six customizable on-demand training activities are listed for your benefit:
1. Content Libraries
Compiling and organizing training content into libraries is the first step to creating a well-rounded training plan. These content libraries can support employees throughout their term in the company, whether they are beginners or seniors. Content libraries are typically stored in a learning management system, which in itself is a valuable resource for any training strategy aimed at providing JIT support. They can function as a course catalog and host a variety of different course formats, which can be extremely beneficial for employees with different learning preferences.
Organizations have the freedom to select micro-learning courses, game-based learning, how-to manuals and guides, and short lectures illustrating essential day-to-day processes. Finally, their infrastructure facilitates their maintenance, while their environment facilitates their updating, by adding or deleting content. By leveraging this versatile form of JIT support, companies can implement training programs that boost knowledge retention and provide support at all times.
2. Doubt sessions and mentoring programs
Mentoring initiatives appear time and time again in L&D strategies, and rightly so. Although the nature of on-demand training is slightly at odds with the general idea of ​​mentoring programs – that someone is available for long, regular discussions to guide someone through their personal and professional journey – it does not mean not that one initiative cannot integrate the other. If your training is delivered in an on-demand format, the same can happen for your mentorship program. Easier said than done? Not really.
On-demand training is not always used as a last-minute call for help in times of crisis. It can also be accessed during slower working hours or during time slots specifically allocated for learning and development activities. Companies can allocate and fill these time slots with doubt sessions, where more experienced members can discuss questions or issues with the latest additions. Alternatively, they can be assigned to individual live interviews with experts or mentors; mentors themselves can contribute to the process by filming short lectures illustrating key concepts and processes.
3. Live Chat Forums
Discussion hubs, employee forums, or live chats leverage peer review to provide immediate support among team members. Colleagues can get together and discuss work-related issues, or exchange valuable information and experiences in the field. In addition to JIT support, chat portals can help retain longer-term acquaintances and build stronger interpersonal bonds between members. Peer-to-peer learning has proven to be an extremely effective learning method as it combines social, collaborative and experiential learning, all during working hours! If you plan to launch specific software to meet your on-demand training activities, make sure it includes an integrated messaging system or a comments section. You can also create a separate group chat in your internal messaging system specifically for on-the-job queries.
4. Course summaries
The provision of course content summaries is highly dependent on the user interface of the LMS or training software you have chosen. Ensuring your software is user-friendly and scalable enough to allow users to preview content can go a long way. While summaries don't necessarily add or take away anything from the content or the learning experience as a whole, they can provide a quick reminder for any emergencies that may arise. By quickly browsing through a summary of content, employees can decide if this resource is the one they need to access to resolve their issue. Alternatively, course content summaries can even provide the answer your employees need with nothing more than a quick review of the course description.
5. Refreshments on demand
You would think that on-demand activities are actually on-demand refreshers, and they are. In this case, however, think of these refreshers as short, step-by-step exams or quizzes on important topics that employees can complete every few months or every business year. Compiling an on-demand set of updates can not only provide instant support when needed; these refreshers can also be part of competency-based training and incorporated into quarterly reviews and evaluations. The content of on-demand updates will depend on each employee's position and experience, the nature of their work and the needs of the business. For example, if your organization needs to optimize a specific process, the teams responsible for carrying out said process will need to refresh themselves on the appropriate procedure. Reminders for the same team can include different resources for each member to fill different knowledge gaps and cover different aspects of the role.
6. Collaborative whiteboards
Similar to chat portals, collaborative whiteboards allow the exchange of information between team members using simple built-in tools to attach notes or documents on a regular canvas. These whiteboards are perfect for brainstorming sessions or compiling essential training information into separate, easily accessible groups. Plus, they can accommodate a variety of media tools and file types, providing flexibility when it's time to upload new documents or notes, or when it's time to review what's attached to the board.
Conclusion
Developing a cohesive training strategy can be a time-consuming process that requires planning and resources. Ensuring your workforce is equipped with a comprehensive portal of training materials can provide instant support and save money, time and man-hours in the long run. With Just-In-Time support, employees can be confident in knowing that sufficient resources are available when they need them, which can lead to better performance results, better knowledge retention and to reduce risks at work. If you plan to implement on-demand training activities into your learning and development program, make sure they are accessible enough to meet routine day-to-day practices, as well as emergency situations. And, if you're looking for the perfect software to host an agile learning program, we've got a list of The best content development companies to help you create your virtual training programs.