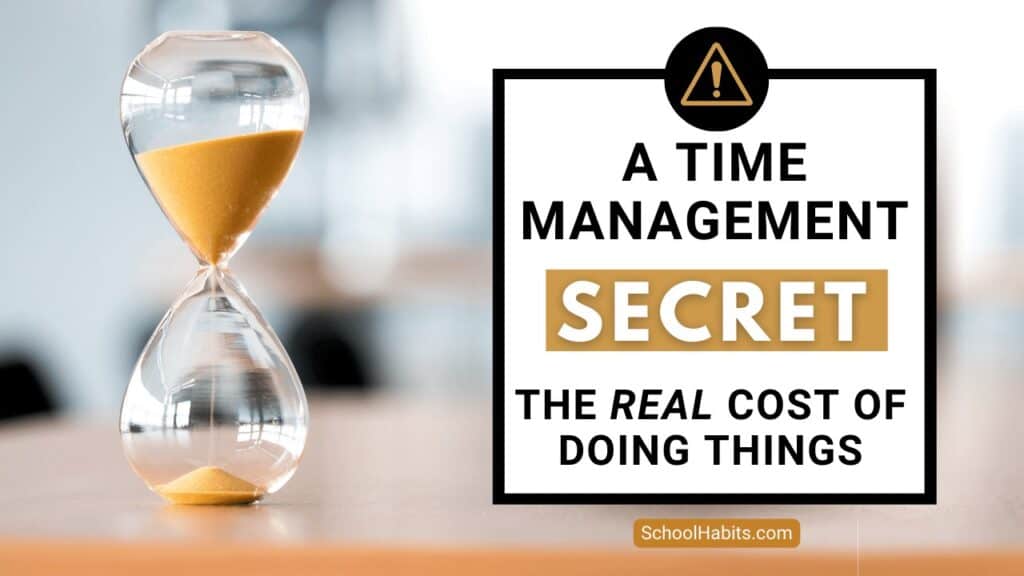 By Katie Azevedo, M.Ed.
I write and talk a lot about time management here on SchoolHabits. Indeed, time management skills are one of the foundational academic skills that students need to succeed in all other important academic areas. For example, time management skills allow students to schedule study sessions, avoid procrastination, write articles without feeling time-stressedand complete their homework at a healthy time each day.
But although I've written a ton about time management over the years, there's one area I haven't covered. I'm going to call it a time management secret, although my goal with this post is to get the secret out.
Here's the deal: everything we say yes to comes with overhead. By overhead, I mean invisible time commitments and obligations that aren't so obvious to begin with.
It's saying YES to activities without considering the invisible time commitments and overhead that leave us overwhelmed, overworked and out of time.
So what is the secret to time management?
We must stop saying YES to all activities without Really thinking about the time needed – even whether the activities look good on our transcripts, even whether the clubs look good on our CVs, and even if the job looks good on our college applications.
Whenever we say yes to an activity, like an after-school club, we need to think beyond the obvious time commitment. We must consider the following:
Travel and transport to and from the activity
Time spent on activity out meeting hours
Time spent communicating and coordinating with group members or leader
Time devoted to reflection and preparation for the activity
Each item in the list above consumes hours that, at first glance, seem invisible. But when we say YES to activity, we are actually saying YES to all of the invisible time commitments above.
Do students have to register for activities?
It is wonderful and even necessary to join after school clubs, sports and jobs. (here's why.) But we have to do it only after taking into account the full extent of the overhead costs of this activity. If we're okay with the full scope, then go ahead and join the group. But if adding these invisible time commitments to your schedule is stressing you out or not fitting into your schedule, then you probably shouldn't join the group.
To see if you really can join another club, group or activity, work out your current schedule using this Google Calendar strategy and see if you really, really, mathematically to have time.
An example of invisible overhead
I think this time management "secret" is best explained with an example.
The first image below is an example of what a student might imagine joining a weekly club looks like over the course of a month.
The second image is what that same weekly club looks like with all overhead.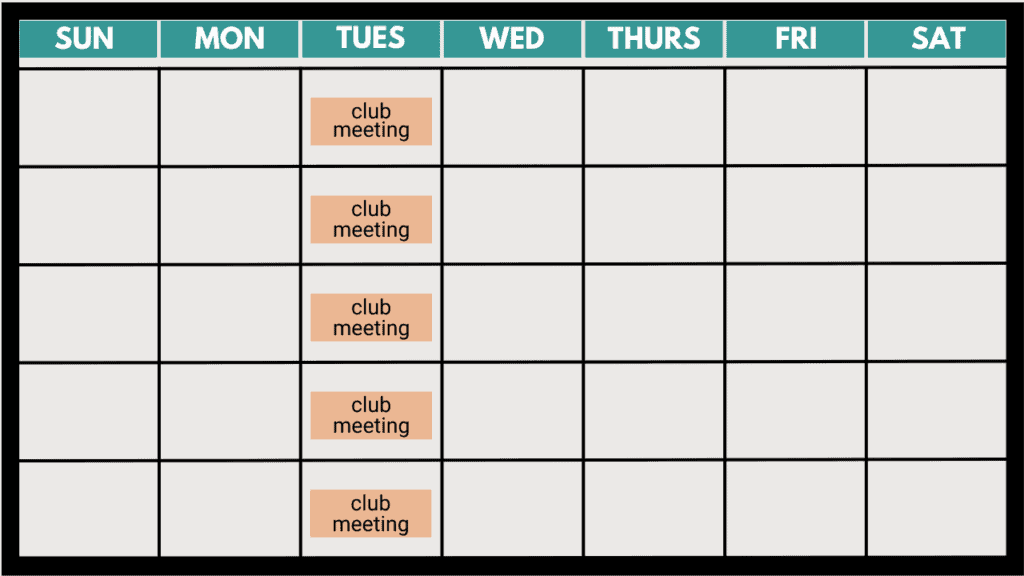 At first glance, this seems easy enough: a simple hour-long meeting, once a week at the local YMCA. LAW? Who doesn't have time for that?! Wait though… let's look at the unseen overhead that comes with this ONE club. The image below shows the reality of what you are saying yes to.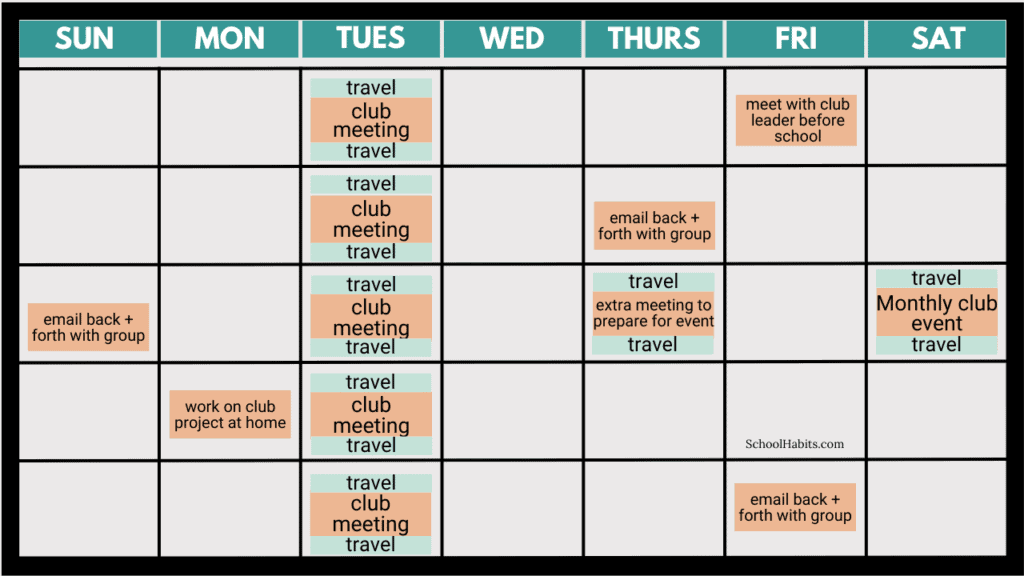 The key to effective time management is not just managing clock. It's really about managing activities we choose to dedicate our time and fully understand the scope of each commitment we make.
For more time management tips, check out these resources: