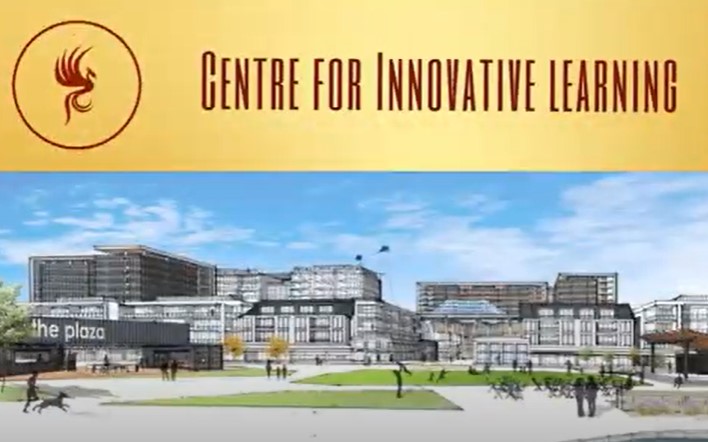 At the Tech & Learning Innovative Leaders Summit, educators from across the country were challenged to design a school of the future. Teams of award-winning educators were asked what their ideal school of the future would look like with unlimited funding.
During an afternoon at the Liberty Science Center in New Jersey, educators shared their thoughts and experiences on topics such as fluency versus grading and classroom design and pedagogy as they were developing their vision of what the perfect school of the future might look like. . The teams then shot videos and/or created slideshows to present their concepts. While each shared an awesome vision for a school we wish existed IRL, the winning team stood out with a school called The Center for Innovative Learning.
Winning team members T'Nesia Hurley, Melinda Gooch, Melissa Jacobs, Robert McCartney, Lisa Nielsen, Christopher Lockhart, Jennifer Parker and Faith Alcantara envisioned a school in a redeveloped mall that would provide equitable and innovative education for all students. The thoughtful and innovative vision the group had for their school left conference attendees in awe – there were at least two audible gasps.
Recover lost space
Once-thriving malls across the country are now empty and abandoned due to changing consumer habits. The vision for the Innovative Learning Center is built around utilizing these spaces and reclaiming and converting the standard elements of a large shopping center into an educational wonderland.
"We're going to have a high school, elementary school, and middle school using salvaged storefronts that will be transformed into classrooms with flexible seating and flexible tables," said Melissa Jacobs, director of library services for the New York department. Education, during the presentation of the group.
These storefront classrooms would make full use of what has been left behind by the former occupants of each storefront. For example, the remaining items from the Apple Store would provide the school's cutting-edge technology, the local arcade would become an esports arena, while the beauty salon would be transformed into a cosmetology school classroom. The food court would be a reimagined school cafeteria staffed by students using farm-fresh ingredients and offering concessions to the old cinema, which would be converted into a performing arts space for student performances.
Another aspect would be to revive the Barnes & Noble bookstore as a cutting-edge school library. "All the shelves will be reorganized into a K-12 collection accessible to all students. Seating and tables will be flexible and reused," says Jacobs. "There will not be one, not two, not three but four full-time certified school librarians. One for each elementary, middle, and high school, and a full-time librarian.
A focus on students
As impressive as the physical location of the Center for Innovative Learning is, the vision is focused on student success rather than architectural brilliance. "We're going to provide students with what they need to succeed in life," said Christopher Lockhart, chief technology officer at Princeton City Schools in Ohio. "Schedules will be co-created with students and staff to create the schedule every student needs to be successful."
The school will have certified teachers on staff, but will also engage in partnerships with community experts outside of school, including politicians and business and industry experts who can help foster student career paths.
Programs would also be developed for parents to be included in everything the school does and for older students and former students to help younger students.
The school's logo is a phoenix rising from the ashes, with the slogan "Lighting the flame in all learners". Although it is not a real school, the Center has already aroused a lot of curiosity.