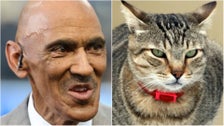 Former NFL coach Tony Dungy Wednesday regurgitated a debunked far-right complaint that schools use litter boxes for pupils who identify as cats – and it took over social media.
Dungy, now a football analyst for NBC, responded to a Tweet from the Daily Wire about a Minnesota state official who argued that a proposal to place menstrual products in school restrooms should include boys' facilities.
"It's nothing," the former Indianapolis Colts coach tweeted. "Some school districts put litter boxes in school bathrooms for students who identify as cats. Very important to meet the needs of each student.
The urban legend was fueled by "politically conservative types who oppose LGBTQ+ rights and gender nonconformity," Indianapolis Star rated. (The duck may have started after some schools in Colorado cat litter requested to place in buckets for students in case of class closure due to threats.)