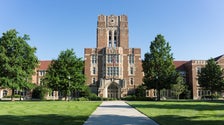 A Republican legislator told colleges and universities in Tennessee that recognizing LGBTQ students in public records as "protected" under federal Title IX law could violate state law.
Rep. John Ragan (R) contacted public institutions of higher education, including the University of Tennessee and East Tennessee State University, in August, asking schools to "immediately revoke" or delete documents suggesting that LGBTQ people are protected by historic law.
Title IX is a federal law that prohibits discrimination based on sex in institutions that receive federal assistance, according to the US Department of Education; institutions are required to operate in a "non-discriminatory manner" on the basis of gender.
Ragan's letter cited the federal court order, saying it "directs and restrains" federal officials from using previous departmental guidance to protect LGBTQ people under the law, WBIR-TV reported.
You can read the letter, published by WBIR-TV, below.
The University of Tennessee responded to Ragan saying it had not changed its public Title IX documents, including websites and policies.
"We do not believe that anything in our current policies, procedures, or statements relating to Title IX or non-discrimination violates federal or state law," the university wrote to Ragan.
East Tennessee State University responded to the letter by removing references to protections for LGBTQ people on at least one website, WJHL-TV reported.
"Universities are not free to ignore state law regardless of their accreditation or certifying organizations say they need to get accredited the most," Ragan told WREG-TV.
"These are not governmental entities, and as such universities must abide by state law beyond what these organizations tell them."