The diversity of Dutch multinational SHV Holdings has attracted Richard Belly to his role as CIO of the group and introduced him to the challenge of supporting different business strategies and digital transformation needs.
VHS Group operates across a wide range of industries, with six operating companies, including the Macro retail brand as well as heavy lifting, engineering, animal feed, financial services and energy businesses.
Ventre joined the 126-year-old Dutch company in January 2022 after a long spell in IT leadership roles in the ports and logistics sector.
Today, he is in charge of creating the foundation allowing each of the group's businesses to apply industry-specific know-how to autonomously pursue their own digital transformations.
Ventre, originally from Liverpool, completed his first degree in computer science in 1999 at Liverpool John Moores University, before joining IT provider CSC as part of a postgraduate program. He then spent 10 years in the company.
While at CSC, in addition to completing his Masters in Computer Science, he held various roles including leading the database capability globally and working on the company's NHS contract for the cluster. North West.
His last role at CSC was working on his contract with financial services giant Zurich Insurance, based in the Swiss city. When his wife was expecting triplets, the couple decided to move back to the UK, to be close to family.
"It got us thinking. At the time, I had been with CSC for 10 years and was the director of service management on the Zurich account," he said.
He was approached by Network Rail to become head of IT operations, an opportunity he seized and spent seven years there.
Working in Zurich gave Ventre a taste for working outside the UK. After leaving Network Rail, he resumed his travels. He joined Maersk as Global CIO for the terminals activity of the shipping company, based in The Hague. Ventre says he loved the Netherlands and the people, and the job was going very well, but after three years in The Hague he received "an offer I couldn't refuse" from the Adani Group conglomerate in India. "They were doing some really interesting things," he says.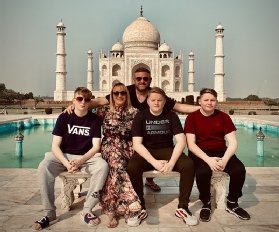 Ventre became CIO for the Adani Ports and Logistics business. Working directly for billionaire son Gautam Adani, he began leading the company's digital transformation and shift from "analog ports to smart ports," he told Computer Weekly.
But when the Covid-19 pandemic hit India and his children's school closed, Ventre and his wife decided to return to Europe. "We had the business work remotely, delivered things remotely and achieved a lot of things, but around June 2021 my wife and I decided that the children could no longer follow distance education, so I 've put the feelers on for a new role," he says.
Cross-industry focus at SHV
Six months later, Ventre was offered a job at SHV ​​Holdings and the opportunity to return to the Netherlands. He joined in January 2022 and now spends weekdays in Utrecht and weekends with family in Liverpool.
"The opportunity attracted us because we knew the Netherlands and we liked this place. It also allowed me to leave the port and shipping sector, which is a good sector, but I didn't want to be pigeonholed," says Ventre. "As CIO of the group, [I work] in several industries, which was a big attraction for me. »
At SHV, Ventre has seven people who report directly to him. These include the Heads of Architecture, Risk and Information Security and Head of Digital Data, all of whom have their own teams.
Companies within SHV Holdings also have their own IT teams. "We are a holding company and each company within SHV is completely independent with its own CIO and board of directors," says Ventre.
The diversity of the group's businesses means that there is no single approach to digital transformation. "That's really a key point," according to Ventre.
A diverse set of businesses have various digital transformation strategies. "Every business has its own digital strategy, and as a group-level CIO that can be difficult. I work with seven very different business strategies," Ventre said.
To address this, the group implemented a strategy, known as Better Together. "While we are very different in terms of operating models, businesses and industries, we have a lot in common in what we do around classic core computing like networks, servers, service desk and application support," he says.
"The Better Together strategy aims to strengthen the supply chain for global partners who can introduce standards into standardized IT. This created the platform for CIOs to focus on digital business transformation," Ventre adds. "It will be low-cost, repeatable and standards-based, allowing CIOs across the group to focus on what's important."
He says he can't drive digital transformation at the group level, but can support CIOs in their efforts. Its strategy is to reduce the cost of core IT, define architectural principles and guidelines, and give CIOs the freedom to execute their digital transformation.
"We try not to get too involved in the third party beyond governance. We respect the decentralized nature of our business and CIOs need autonomy, but there are some things that are non-negotiable, like core IT and governance around certain digital transformations if they are of a certain size" , says Belly.
Digital transformation in train
The digital transformation within the group is well underway. For example, SHV's testing, inspection and certification business, Kiwa, uses digital technology to improve business operations.
"Much of this can now be done remotely. using Internet of Things (IoT) technology. The components are connected to the internet and send messages to enable predictive maintenance," explains Ventre. "Predictive maintenance is already underway, but eventually there will be remote certification and the engineer will not need to go on site to verify the maintenance."
SHV's Eriks business, which manufactures equipment, also uses IoT technology to deliver digital services. With customers such as major beer makers, Eriks has traditionally sold parts and equipment, but now sells services in addition. "The product now comes with software that allows the user to understand the status of the product through IoT technology."
Ventre adds that Eriks maintenance teams also use virtual reality for training and support during maintenance.
Meanwhile, in its Mammoet crane business, the use of digital technology is improving projects. "We waste a lot of time debating whether a job can continue in high winds," says Ventre. "In the future, sensors will be able to determine wind speed and enable fact-based decision making"
It also uses data to forecast, plan, and assess job risks, which would have been done less effectively on spreadsheets in the past.