While Sam's Club at first glance may seem like a typical warehouse membership club, look past pallets of packaged food and table tops piled high with designer clothes, and you'll see a committed operation at use technology to improve the experience of customers – or members, as they are called – and its own operations.
For example, the company launched the Scan and Go mobile phone app in 2016, allowing customers to skip the line by using their mobile phone to scan barcodes themselves, then clicking a button to settle and pay.
The service made shopping more convenient for members who used it in 2016.
But he really stood out as a visionary when the pandemic hit in 2020. Scan and Go provided a contactless shopping experience at a time when advice on COVID was to "social distance" by staying 6 feet from any other person. The app allowed members to avoid close contact with anyone else in the club while shopping.
Vinod Bidarkoppa joined Walmart-owned Sam's Club as CTO in February 2020, just before the pandemic really hit, and he's committed to the organization's technology leadership. Among his priorities was modernizing the company's technology infrastructure to drive improvements in everything from productivity to the supply chain for the nearly 600 retail outlets, the commerce channel electronics and the organization's fulfillment and distribution centers.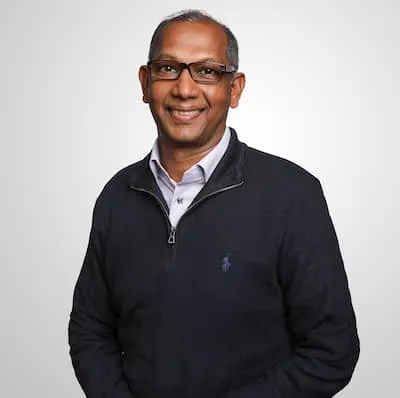 Bidarkoppa recently reached out to InformationWeek to talk about the pandemic, Sam's Club's infrastructure upgrade program and how the warehouse club is using artificial intelligence. Here are some excerpts from that conversation.
You joined Sam's Club after a career in other consumer-facing companies. Tell me why you decided to join the company.
When I interviewed for this job, I still remember when they said, "Hey, we're a $50 billion startup. I've never heard "50 billion" and "startup" used in the same sentence. And I thought, this is a place I'd like to be a part of.
How has the business been since your arrival?
Since then, we have come a long way. It's a warehouse channel, which is slightly different from retail. Walmart is not Sam's Club. For us, it's all about the membership model. People pay to shop with us, and we also have a very curated set of items in the club, and we want to bring the best items. This has been a phenomenal growth story for us. I mean, I think in the last two years alone, we've probably added over $20 billion in revenue alone, and we've had double-digit growth in the last 10 quarters. But what underpins that is the importance of technology to that growth. It is evident everywhere. Technology has been the long pole in the Sam's Club tent.
What is driving this growth?
We are looking at where technology can make a difference for us. Whether it's growing our business, increasing member acquisition, or driving productivity everywhere – in clubs, in DCs (distribution centers), in CFs (distribution centers), it's infused into all parts of the business…technology is so critical and foundational as an enabler to the growth of our business.
These are a lot of initiatives. How did you set the priorities?
When I arrived, there was no one in that role for almost a year, so there's a void, isn't there? First of all, what is the strategy you are trying to put in place? At Sam's Club, we have a diamond strategy, which is essentially this: how do we differentiate ourselves on convenience? How do we lead on price? And how do we align quality and assortment with some of our existing competitors?
We take this business strategy and look at where are the gaps and the challenges and the technology perspective to bring this to life? It was the starting point.
Then, while we're still trying to do that, the pandemic hit us right at the start of 2020. Then you go back to OK, what do you need? What do you need to do here and now because everything changed in the space of, I would say, 30-45 days during this March/April period. Behaviors have changed, right? Members all wanted to shop differently with us. We didn't have some of the channels we wanted, which are now standing and really mature.
First, we said, how can we bring this new channel experience to our members so they can shop the way they want? That's when we set up the club takeover, okay, so there's a lot of energy and effort that has gone into creating this channel for our members.
The other thing that was happening on the supply chain side was also how to boost productivity so that we could consolidate some orders. Are we integrating AI, machine learning into some of the things we do in our [distribution centers] and [fulfillment centers]? How do we simplify the supply chain processes of our distribution centers? These are some of the first things we had to tackle in order to provide our members with shopping convenience.
How does this translate into Sam's Club's technology infrastructure?
We have begun to examine the basic elements of this technology investment strategy. How do we work on these initiatives to bring them to life? I've broken this strategy down into three buckets. One is new member channels and revenue growth channels. The second is how we manage productivity platforms across our club associates as well as our supply chain space. The final and most important bucket for us was how to future proof our business as Sam's Club was started in 1983. Obviously there are many legacy processes and many legacy systems and platforms.
And we've had phenomenal growth. When we closed this last quarter, we had a record number of members since we started. So as we bring these new units to the club, both online and offline, along with the phenomenal growth we've seen on the e-commerce platform, we're looking at some of the legacy systems that were still in up and we said hey, we need to rethink this process and redesign these systems and remove the old legacy systems and invest in technology so that we have the next-gen systems.
Does this mean moving to the public cloud?
We're basically about 80% public cloud. We have completely rewritten our entire digital e-commerce platform, which is on the public cloud. We completely rewrote our membership platform, which was on our mainframe, and moved it to the public cloud. We offer a warehouse management system used by our supply chain and distribution center, and this was on the old central system. We have implemented a software package on the public cloud.
We are a cloud-first company. Whether it's modernizing the supply chain, modernizing membership, or organizing the digital e-commerce platform, these are all the big efforts we've made over the past two years and a half to allow us access to a next-generation platform to help us drive not only growth, but also our productivity improvements for our club systems and our supply chain systems.
What public clouds are you on?
We cross several clouds. We use our cloud partners to our advantage. Our goal is to eventually have a hybrid cloud platform – a combination of private cloud and public cloud Azure as well as Google Cloud. We're balanced between those three, so we've got the best of breed and the best from a cost standpoint as well.
What about AI? Can you tell me about one of the AI ​​projects?
We have an initiative called Inventory Recognition as a Service. It's a camera-mounted scrubber, which circles the club several times a day, and we capture around 17 million images every day. We tag all of these images, and it allows us to avoid a number of tasks that club associates would have had to perform without automated task execution, which is entirely based on computer vision… is there discrepancies in signage and prices, are they missing, or are they out of stock. It brings all this information back so that we can process it systematically.
Are these tools developed in-house? Are you using an open platform or source?
These are all in-house developed, custom, and in-house developed technologies that are a combination of the great work that our product teams and technology teams do in-house. These are largely open source, and of course we use the cloud stack, but not a packaged implementation.
Are there other elements that have been necessary for Sam's Club to implement these modernization initiatives?
I talked about how technology is the long pole of the tent, but what makes it happen and helps us bring it to life is really culture and organization. Member obsession is something that drives everyone… The first thing we do every Monday morning is look at the NPS (Net Promoter Score) for all key courses. If the NPS has dropped, we're looking at what we need to do differently to help improve the member experience and the associate experience.
What to read next:
Walmart to hire 5K as tech job market remains tight
Box and MongoDB CEOs discuss software and the future of work
SAP North America's new president talks about reinventing for the cloud