By Katie Azevedo, M.Ed.
One of the most popular blog topics is time management strategies for college students. Time management can be a challenge for everyone, including students, professionals, and adults. That's why this article discusses the top 5 time management mistakes students make – and what you should be doing instead.
Top 5 Time Management Mistakes Students Make
The following is a list of the top time management mistakes I've seen students make in my 16+ years of teaching thousands of students. Be honest in your assessment of your time management skills and see where you can improve. Start with the list below.
1. Not having complete clarity
Any good time management system starts with complete clarity on two main areas:
How long is available
What to do
Students greatly overestimate the time they have to do their homework and underestimate what they need to accomplish during that time.
If you're a student, you need to be absolutely clear about how much time you have during the week for schoolwork (homework, studying, reading, writing essays). You probably have less time than you think.
To do this, pull out a weekly calendar with hourly timestamps (Google Calendar works well, as does a piece of paper) and do the following:
Block school hours
Block meal times
Block activities and travel time around each activity
Block bedtime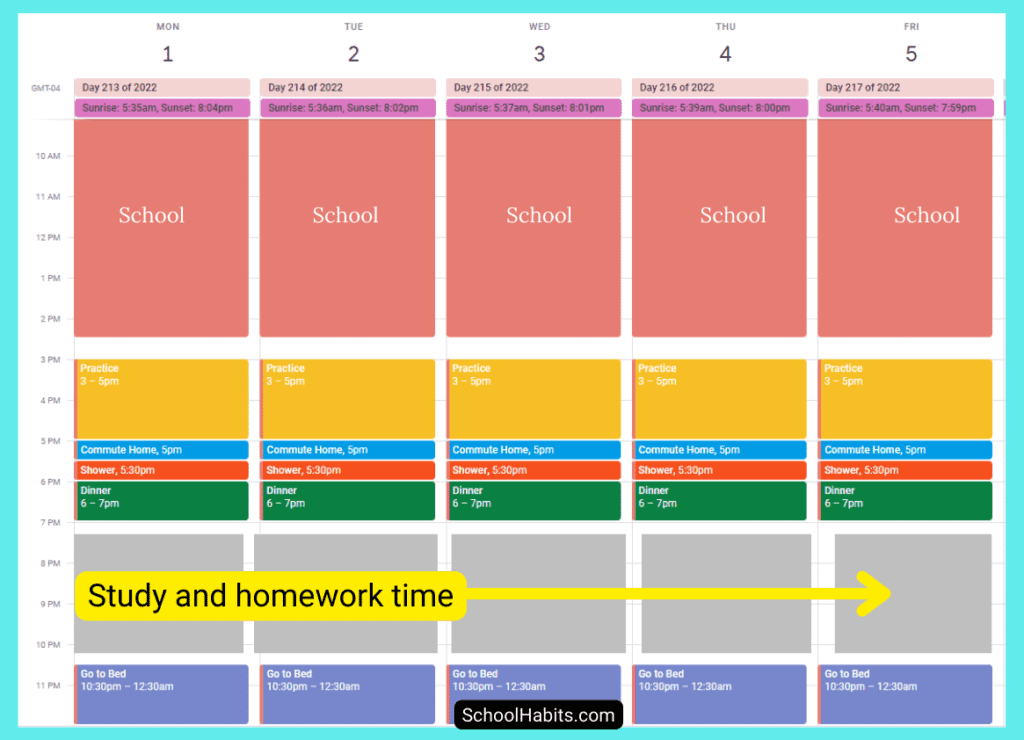 What's left (if shaded above) is how much time you really have throughout the week to complete all of your thoughts. Good time management for students involves getting real about this number. here is my complete tutorial to use Google Calendar as a student. (I'm going step by step and holding your hand all the way. Check it out.)
2. Being half-focused while studying
"I studied for hours and still failed!" I hear a variation of these words several times a week.
First of all, studying for hours at a time is a bad idea. You should study at close intervals over several days, using the incredibly effective strategy called spaced repetition.
Second, you may not like to hear this, but studying, writing, and doing homework takes effort and focus. YES, it's hard. YES, it is uncomfortable. YES, there is definitely something much more interesting on your phone. But, my friends, if you're still time-stressed and overwhelmed with the work you have to do, then become aware of managing your distractions.
The more distracted you are while studying, the more time you waste and the less you learn. Then you wonder why you "studied for hours and still failed". The answer is that you haven't studied for hours.
Here's how to increase your focus while studying:
Know how long you will study; give yourself a stopping point.
Put the phone in another room. Not upside down next to you, but in another room.
Avoid music with words. If you must listen to music, choose instrumental music. (The language of words competes with the language of what you read/write/study).
Take breaks. here's how.
Have a plan. If you don't know exactly what you're doing during an assignment or study session, your brain will find something "better" to focus on. Go into each study session knowing exactly what you plan to work on.
Put yourself in the right environment. You know that. Get out of bed, get off the couch, find a legitimate workplace, and take it seriously. Imagine how ridiculous that would be for a doctor trying to perform surgery in a gym. You study in your bed, it's just as ridiculous. Our environments must match the work we do.
3. Overdoing it
All the time management strategies in the world won't work if your plate is too full.
If you're going through time management mistake #1, do a real weekly calendar to identify free time, and still don't have enough time to complete your work, you have to do less. More is not always better, despite the fact that many students accumulate tons of activities to boost their college applications. No. A healthy student with a reasonable amount of activity makes a better candidate for college than an overworked, overworked and unhealthy student who is unable to contribute fully to the activities to which she has committed herself.
4. Failing to properly plan long-term projects
Failing to plan long-term projects is a very common time management mistake. Long-term projects include writing papers, preparing for tests, preparing for presentations, and completing other assignments with a due date longer than two days.
Good time management for long-term projects means breaking down the larger project into smaller steps. These little steps to have to be put on your calendar to be completed over time, the days leading up to the ultimate due date. Too many students save long-term projects to the very end, making them anxious, overwhelmed, and often unable to complete the work on time.
The image below breaks down an example of planning a long-term project.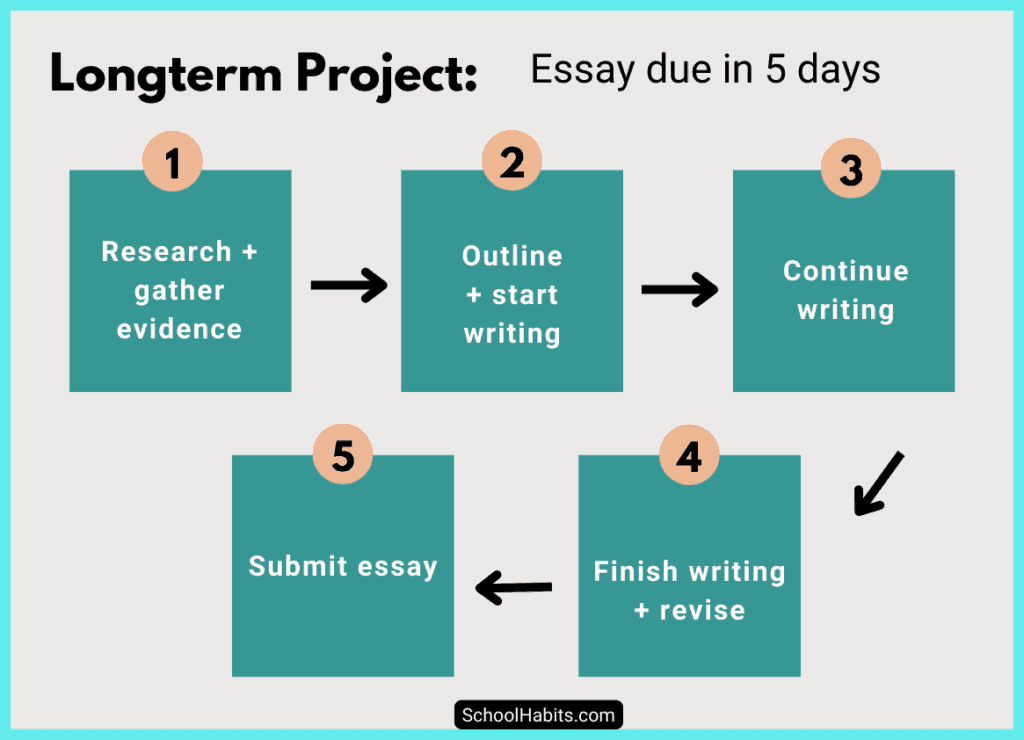 5. Underestimating the time needed to read and study
As I explain in Time Management Mistake #1, students are notoriously inaccurate when estimating the time needed to complete projects. The two areas where student time estimates are most inaccurate are reading and studying.
Reading and studying take much longer than expected. When planning your day or week, make sure you allow plenty of time to do "unsubmitted" tasks like reading and studying. Some students forget to count them as homework (yuck!).
So how do you plan enough time to read and study? Try that:
Get an idea of ​​how long it takes you to read different types of documents. For example, if you read Beloved in English class, time yourself by reading 10 pages. From then on, use this benchmark time to estimate how long it will take you to do your nighttime reading assignment.
Do the same for reading textbooks: time yourself reading one or two pages. Then, use that as a benchmark to estimate how long your nighttime reading assignments will take you.
Conclusion: We all make mistakes in managing our time
All students (and professionals!) make time management mistakes. It is because we are human. The problem isn't the day you misjudge your free time or procrastinate too long on a trial – we everything do that from time to time. The problem is when we make these mistakes over and over again and they start to impact our mental health and our grades.
Time management is difficult, but it is not impossible. In the end, it comes down to some math, good planning, and a radical acceptance that the hard stuff won't kill us.