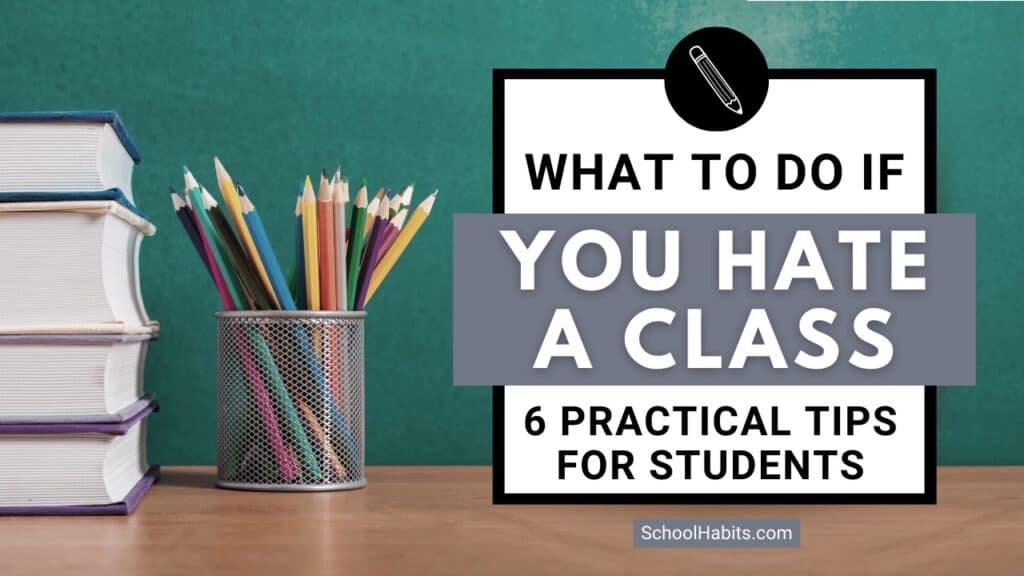 By Katie Azevedo, M.Ed.
You are going to hate a class. At some point in your school life, you're going to hate a class for one reason or another. Maybe it's the teacher, or maybe it's the subject. Maybe it's too hard, or maybe it's too easy.
If you're one of the few lucky student unicorns, this might not happen to you, but for the rest of us, the question is what to do if you hate a class.
How to choose the right classes so you don't hate them
Let's start with the obvious first step: don't take a class you'll hate. I know I know. This is annoying advice and not always possible, especially if you're in high school or in a situation where you don't really have a choice.
But if you TO DO have some control over the classes you take, the following tips might help you avoid taking a class you hate:
1. Clarify your end goal
Knowing what your ultimate goal is will help you choose the right classes to get you there. If you want to be accepted into a top college, you'll probably need AP courses. If you want to graduate from college with a major in neuroscience, you need a whole bunch of science courses. When you know your end goal, you choose courses that lead you there.
2. Know your weaknesses
It sounds obvious, but if you know you're struggling in math class, avoid enrolling in hard math classes. If reading isn't your strength, then maybe don't take a literature class. It's not always possible to bypass the course requirements entirely, but you can always choose the best option from the subjects you don't like.
3. Pay attention to the course format
With a little research, you can determine the format of a course before enrolling in it. Some courses are in the form of lectures, while others are centered on small groups or in the laboratory. If you know you are successful in small classes, learn this information ahead of time. Do you prefer large introductory courses? Learn this information in advance.
4. Negotiate
I know demands are demands, yada yada, but I was raised to believe that everything is negotiable. And now I teach the same thing. (Thanks to Mom and Dad.) If you need to take a course that you know you will struggle, meet with your advisor to see if there is a compromise. You don't know until you ask.
Let me tell you a story I called "Let's not take the math". Once upon a time, when I was entering college, I had a freshman math requirement. I didn't want to do math. Although I was good at it and did well in AP Calculus in high school, I was personally done with math classes. So, because everything is negotiable, I met with my counselor during the first week of school to see what we could do. We agreed that if I doubled the lab classes, she would waive the math requirement. Deal! Double science, no math, sign me up.
You don't know until you ask.
What to do if you hate a course you're currently taking
Alright, let's say you really tried to avoid a certain class, but ended up there anyway. Or, maybe you thought you'd like a certain course, but it turned out awful. What do you do then? The following 6 practical tips should help you.
1. Introduce yourself
The first thing students want to do when they hate a class is don't go there. I got it: avoid the pain, right? But here's the reality of the situation: if you stop showing up to class because you don't like it, then you'll fall behind. The longer you fall behind, the more stressed you will be. The more stressed you are, the more you hate class. It's a vicious circle. (If you're away a lot, here's what to do.)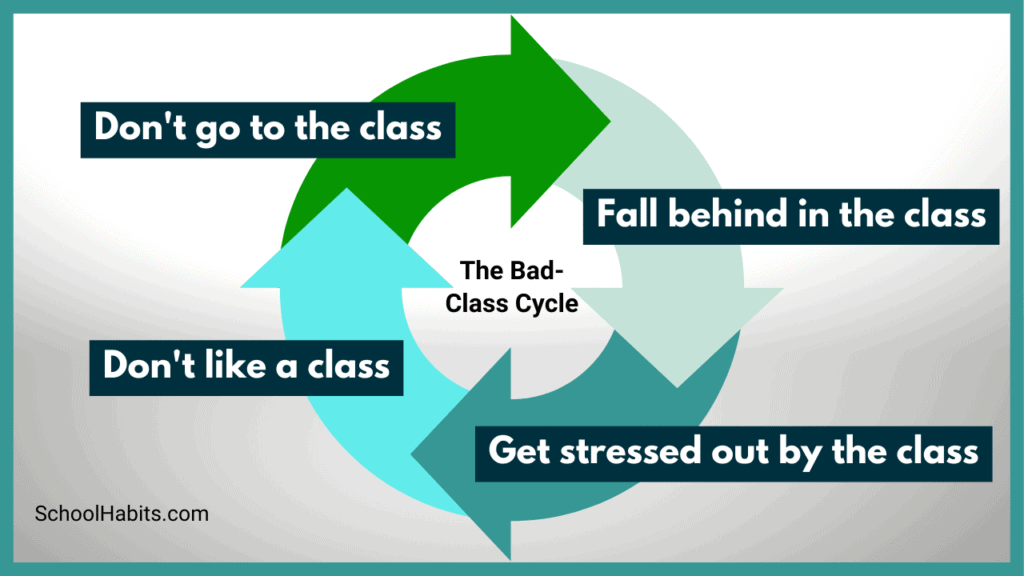 The best approach is to show up anyway and suck it up. (Hard? Sorry.) Your class won't last forever. It won't kill you. I know the reasons you don't like are probably valid and real, but show up anyway. Come in, do the work, get out. It really can be as simple as that.
2. Pair it with something nice
If you're dreading going to your 7:30 a.m. chemistry lecture, a) I feel you, and b) add an element of happiness to the situation. For example, if your 7:30 a.m. chemistry class is on Tuesdays and Thursdays, make those days the days when you stop at your favorite coffee shop for coffee and a croissant to take to class. Now you have something to look forward to.
3. Focus on the big picture
Sometimes we hate a class because we don't see the point of it. We think it's a waste of time. But the trick is to see the big picture beyond the class you don't like. For example, let's say you're taking a Spanish class because it's a graduation requirement, but you hate Spanish. The most important thing is to graduate from high school, right? And without taking the Spanish course, you can't graduate, can you? SO that's the point of taking the spanish class. It takes maturity to look beyond the immediate source of frustration and think what is it really for?
4. Learn the material on your own
One of the best strategies for knowing what to do if you hate a course is to learn the material on your own. Yes, I know the point is for the teacher or professor to teach you, but it won't always turn out the way you want it to.
If you don't like the course because the material is difficult or the teacher isn't your favorite, then it's up to you to find the information elsewhere. Get a tutor, work with a peer who gets it, or watch YouTube videos… nowadays you can get an education on anything with just a little effort.
Is it a disappointment? Maybe. Wouldn't you rather have the teacher teach you the content? Probably. But if not, you have to understand that, my friend. Here is how to understand thingsBesides.
5. Identify exactly what you don't like
There are several reasons why we might hate a class. These may include the teacher, the content, the people in the class, the way the material is presented, the time the class takes place, the classroom setting and environment. , or even of the journey. If you find yourself hating a course, see if you can identify the exact raison.
If you're tempted to say "Ahh, that's it!" I hate everything about it!" I dare you to give it up absolute defensive thought because it does not serve you and you are better than that. What do you not like ? Reduce it. Think about all the different parts of the class (like the ones I list in the paragraph above) and pay attention to which one your stomach turns to. It's this one. Now once you have identified this part of the class you don't like, you can find a reasonable way to improve it.
Don't like your ride? Take an alternate route or carpool with a friend. Don't like the teacher? Try these strategies. Don't like the way the material is presented because it's for the wrong learning style? Do you teach the subject in your possess learning style.
6. Leave the course
This trick is not exactly "you can do it!" atmosphere of other councils. But let's be real: it's always an option. I'm not saying it's the best option, but quitting a class is a last resort if you don't know what else to do about a class you hate. If you intend to give up, I suggest you follow at least the following 2 simple rules:
End on a high note with the teacher. Meet in person to close the relationship with clarity and gratitude. You never know when you might cross paths again.
Replace the class with another. If that's not possible right away, plan to make up for the dropped class, perhaps over the summer or by doubling the following semester.
Conclusion: speaking the truth
If you're wondering what to do if you hate a class, it probably means you're in the middle of a class that's giving you all kinds of bad feelings. If so, I feel sorry for you and wish you weren't in this situation. But you are.
Now you have two choices. You can either do nothing and continue to resent the class and the teacher, which likely impacts our attendance and grade. Or, you might say to yourself, "Whelp. I guess I have to get in the saddle and ride this a different way. You, my friend, should choose the second option.