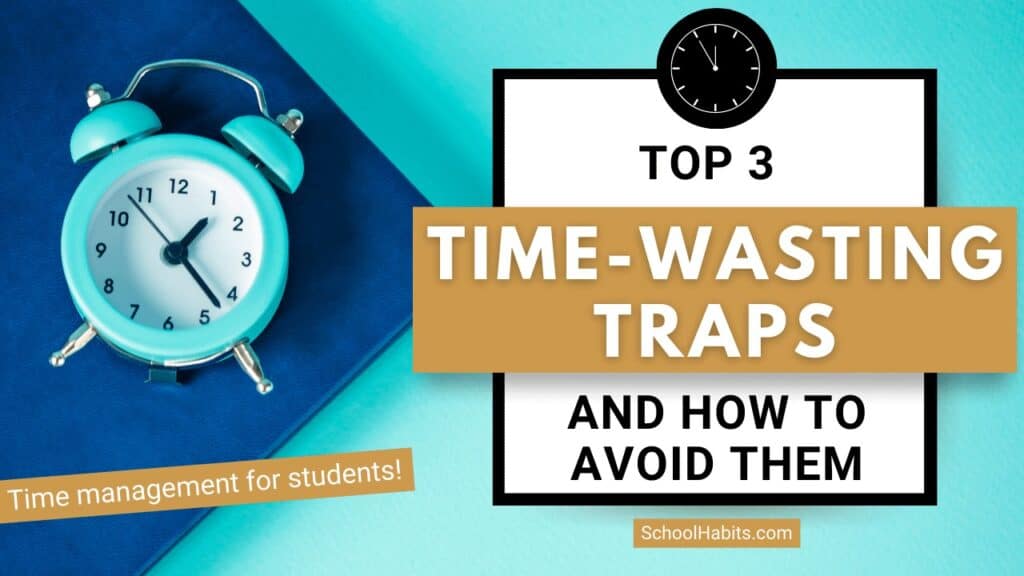 By Katie Azevedo, M.Ed.
Time management for students is one of the main topics I cover in my blog and YouTube videos. This is because so many students are overwhelmed with the amount of work they have to get done in the short time they have – all without having learned the right time management skills. If you are a student, no wonder you are stressed.
In addition to Top 5 Time Management Mistakes Students Make, I think it's important to highlight the most common ways I see students wasting time, and what to do instead. That's what it's about.
Time management for students: 3 things you do that seriously waste your time
The following time-wasting activities may seem harmless, and your answer might be "Yes, but everyone does that" – but when you engage in the following time-wasting traps several times a day, all the days, the damage accumulates.
1. You multitask and claim it "works" for you.
Let's make something very clear: Multitasking does not work. You might be able to draw and watch a movie at the same time, or listen to music while you complete a super basic assignment on some material you already know, but we cannot engage in multiple activities while performing cognitively demanding tasks.
Studying complicated documents with the TV on? No. You could prefer to have the TV on, and the TV could make the situation more pleasant for you, but watching TV while studying will reduce the amount of material you learn and increase the time you spend studying it. It's a huge waste of time.
What to do instead of multitasking
Stop pretending you're the exception to the rule. Again, we can all agree that doing difficult things (studying, reading, etc.) can seem less painful when we pair it with something else, like TV, our phones, or music. But we become so much less efficient when we multitask like that.
What should you do instead? One activity at a time. Even if it's hard. Even if you want to escape the difficulty by texting your friends every 6 seconds. Do the hardest thing first – without any distractions – and the interesting result is that you'll end up spending less to do it because that's all you did. Also, here is my full tutorial on what to do instead of multitasking.
2. You fill every free second with social media.
Tired of waiting for class to start? Take your phone. Waiting for a ride somewhere? Look at your phone. Do you feel uncomfortable at lunch? Immerse yourself in your phone. Are you stuck while writing an essay? Phone.
You might roll your eyes at this management trap because you've heard it a million times before. But no doubt, it is one of the major activities that students blindly waste their time on.
I'm not bashing social media (I mean, I can, but that is not the subject of this post). But I call a duck a duck and name using social media as one of the biggest time wasters. all time.
According to a 2022 New York Times article, teenagers aged 13 to 18 spend an average of 8 hours and 39 minutes a day on screens. It's more than a full-time job! Of course, "screens" can also include television, so even if we were conservative and cut that time in half, we still get an outrageous number. Another SocialBuddy report reveals that people aged 16 to 24 spend an average of three hours a day on social media alone. Again, these numbers are staggering. Mind. Blowing.
I have students in my office and on Zoom all the time practically crying about how overwhelmed they are and how little time they have to get things done. Imagine if they waved a magic wand and miraculously won three extra hours! (This is where I not-so-subtly point at the phone sitting on the desk.)
How to Stop Blindly Wasting Your Time on Social Media
Using social media is sneaky because it's not like you're sitting with your phone for three hours straight. Instead, you probably check your phone all day or usually grab it when you're bored or waiting for something.
There are SO many time slots throughout the day where you might instinctively grab your phone, but your time might be so much better spent do something else. If you have 10 minutes before class starts, get a head start on your homework. If you're expecting a ride somewhere, pre-read the book you know you'll have to read anyway. Social media isn't your only option for filling random pockets of time. The students who are the less stressed are those who use these random pockets of time to do their job.
No student time management blog would be complete if I didn't tell you to put the phone away. And dare I go further and encourage you to delete social media apps from your phone? ! Dare I? ! There is nothing that is manufacturing you are on social media. You have permission to not use it. I guarantee you will be happier and feel freer.
3. You trick yourself into thinking you're productive when you're actually procrastinating..
False productivity is disguised procrastination. (Yeah, it's a GOOD disguise, but still.) A huge waste of time for students is when they avoid the real work (the essay, the homework, the study session) by engaging in other "productive" activities that look like work.
For example, if you have a research paper due next week and you haven't started yet, you might convince yourself that you're not ready to start writing because you haven't gathered enough research.
Or, if you have a big test in a few days that you haven't started studying for, you might convince yourself that you're going to start studying. tomorrow because today you really really really have to clean your backpack and organize your workspace.
Good time management for students involves prioritization. You need to be able to look at your to-do list and figure out which ones you need to start NOW, and which can wait. We are likely to avoid difficult tasks (essentially this is primitive pain avoidance) by occupying our time with less strenuous activities that cause less pain – even if it is school activities. And this is where it gets complicated.
How to work on the hard stuff first, even when you don't want to
I want you to read this post from my Anti-Procrastination series where I give you 6 tips for how to do the hard stuff when you don't want to. The tips are important and helpful, and they'll help you stop wasting your time on fake productivity.
Final Notes on Time Management for Students
It is quite possible that you are a student reading this message, thinking well, i multitask, use social media and sometimes procrastinate on difficult things – and i'm doing great! If that's really the case (though unlikely), then maybe you're a) a unicorn, and b) manage your time effectively in other areas of your life, which means you have room to spare and can get away with some of those time-wasting pitfalls.
But it's more likely that you're a stressed student reading this article, and you're starting to realize that the way you manage your time is just maybe not the best. If that's you, then I applaud your self-awareness. It is the students who deny these time-consuming traps that end up in the worst situations.
So you being here reading this post looking for answers and advice is amazing. Your next step is to choose one of the time management pitfalls I listed above and adjust your habits just for that area. One at a time. You have this.